Bombshell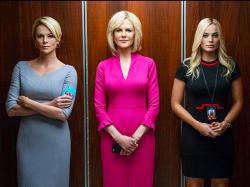 Available digitally today!

- - -

With its clipped style and attention paid to the story behind the headline, "Bombshell" is not unlike an HBO feature. One reason for that may be that Jay Roach, the film's director, is responsible for "Recount" and "Game Change," two of HBO's best-regarded features dealing with politics and celebrity figures. But the focus of his latest, written by Charles Randolph ("The Big Short"), is one of the more trending social trends of our day — sexual harassment in the workplace, here involving well-known figures: the case made by FOX News anchor Gretchen Carlson (Nicole Kidman) against Roger Ailes (John Lithgow, enormous in a fat suit) and its seismic effect on the network.

That story also includes another real-life anchor, Megyn Kelly (Charlize Theron) and an imaginary character, an ambitious new hire Katya Pospisil (a terrific Margot Robbie), a "Christian influencer" determined to be the newest Fox blonde. How these women, who approach each other with a necessary degree of skepticism, unite to bring down one of the 20th century's leading news moguls, make up this enjoyable mix of satire and earnest social commentary.

What buoys the film early on is getting an inside view of Fox News, a chaotic, fascinating working environment, but one toxic for women. The casual, often overt sexism could be found on the air (seen in clips) but, more tellingly, behind the scenes where women are viewed as objects and are intimidated into not complaining about it. Ailes, the powerful chairman, sets the standard, asking prospective anchors to raise their dresses up to their crotches as he interviews them for prospective positions.

When this happens to Pospisil, it is an awkward, creepy moment that starkly displays the abuse of power Ailes had over his employees. (Though not a real character, Pospisil is a composite of women that worked at Fox and reported being abused by Ailes.) What also is interesting is how that intimidation keeps the women from making an alliance. The only time they meet is in an elevator ride fraught with political intrigue where they barely speak. They are both rivals for Ailes' attention and reluctant allies in bringing him down, it is surprising that it even happened at all.

But while it is Carlson who brings down Ailes, "Bombshell's" main character is Fox, played with intelligence and poise by Theron. Beginning in 2016 as she prepares to question the Republican candidates in a Presidential debate, the film focuses on her questioning Donald Trump about his treatment of women and the backlash that occurred when he lashed out at her on Twitter. Her story is set against Carlson's, who finds herself the victim of Ailes' wrath after a "no cosmetic" show. Ailes assails her, saying no one wants to see her sweat in front of her crew.

Kidman has the more difficult role, parsing out her anger and fears in equal measure as she sets out to bring Ailes down. Theron, who looks remarkably like the real-life Kelly, is cooler and more detached as she watches the sad spectacle around her. Perhaps because Ailes is dead (he passed a year after leaving Fox), he is the heavy here, not the Murdochs (father and two sons) who arrive, "Deux ex Machina"-style, to expel Ailes from Fox. That the culture they allowed to persist over the years is never addressed, but perhaps that can be a subject for another film.

It's interesting that this film is coming to theaters at all — it seems ready-made for a streaming service or a cable network, two of which have explored the Murdoch empire: Showtime's "The Loudest Voice" told Ailes' life story with Russell Crowe as Ailes and Naomi Watts as Carlson, and HBO's "Succession" is set amongst the scheming members of a family that owns a media empire similar to the Murdochs. But with its star power and the fascination with its celebrity subjects, "Bombshell" makes for a solid holiday release, filling the slot that "The Big Short" and "Vice" filled in past years. Though less snarky then either of those films, it tells a juicy media story in an engaging way.
Comments on Facebook