Boston Pops Announce 2020 Season Celebrating Keith Lockhart's 25th Anniversary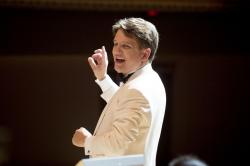 A concert performance of "Ragtime," celebrations of film composers John Williams and Danny Elfman; Pop stars Guster and Amanda Palmer; Broadway's Megan Hilty and Jason Danieley; and a special appearance by Sting highlight the Boston Pops 2020 season, which runs from May 6 — June 13.

It also celebrates Keith Lockhart's 25th anniversary season as Boston Pops conductor with programming reflects Mr. Lockhart's signature programming style that has played a key role in entertaining Pops audiences for a quarter-century.

Tickets to the 2020 Boston Pops season, starting at $31, are available beginning on Thursday, February 27, at noon, in person at the Symphony Hall Box Office, by calling 888-266-1200, or by visiting https://www.bso.org.

"I'm thrilled and humbled to have reached my 25th anniversary season as conductor of what is truly the one-and-only Boston Pops," Lockhart says.

"A quarter-century ago when I started as Boston Pops conductor, I was in awe of the fact that the BSO would take such a chance on appointing a relatively unknown conductor as the leader of the Boston Pops, and that I would follow in the footsteps of such legendary figures as John Williams and Arthur Fiedler," he adds.

Also, the Pops will offer its fans a chance to enter the #PopsFanForever sweepstakes, which will award 25 lucky fans the chance to win special prizes, with the grand prize winner receiving two tickets to a Spring Pops concert every year for the rest of their life. You can enter to win at bostonpops.org/popsfanforever from noon on Thursday, February 27 to midnight on Sunday, April 26. No purchase is necessary to enter; the winners will be randomly selected and contacted by Friday, May 1. Terms and conditions — available at bostonpops.org/popsfanforever — apply, including all #PopsFanForever sweepstakes entrants must be 18 or older.

Below are some of the season's highlights. Click here for the complete schedule.
Opening Week: Penn & Teller And Guster, May 6-9

Performances on Opening Night, Wednesday, May 6, and Thursday, May 7, recognize Keith Lockhart's milestone anniversary with appearances by the comedy duo Penn & Teller. With sold-out runs on Broadway, world tours, and a longtime headline act in Las Vegas, the pair will bring their distinctive combination of humor and magic act back to Symphony Hall after performing during Keith Lockhart's inaugural year as Boston Pops Conductor in 1995. Described as "deliciously unsetting," Penn & Teller share the stage with the Boston Pops musicians who for the first half of these concerts will perform some of Keith's favorite music, including works by George Gershwin and Antonin Dvorák.

Later that weekend, on Friday, May 8, and Saturday, May 9, Maestro Lockhart is joined by another nostalgic guest, the indie-rock band Guster which made its orchestral debut with the Boston Pops and Lockhart in 2005. With hits like "Satellite," "Fa Fa," and "Amsterdam," Guster originated at Tufts University in the mid-'90s and has retained a strong local following through its distinctive vocal harmonies, elliptical lyrics, and social consciousness. As with the Penn & Teller concerts, the first half of these performances will feature the Pops performing some of Keith's favorite music.
Film Nights: John Williams' Star Wars Music And Danny Elfman Scores

During Maestro Lockhart's tenure, the Pops has been at the forefront of the popular practice of performing film music alongside a screening of beloved Hollywood classics. Star Wars: "The Empire Strikes Back" (1980) — which the Pops and Keith Lockhart will present on May 13, 14, 16, and 23 with live orchestral accompaniment of John Williams' famed score — follows in the vein of recent Pops performances of "Star Wars: A New Hope," "Jaws," "Back to the Future," "Raiders of the Lost Ark," "The Wizard of Oz," and "Singin' in the Rain."

The orchestra's popular Film Night series continues June 5 and 6 with the Emmy-winning production "Danny Elfman's Music from the Films of Tim Burton," which brings together the celebrated movie scores of Danny Elfman with the eye-popping visuals of director Tim Burton. Conductor Ted Sperling leads the Pops and the Tanglewood Festival Chorus in music and film clips from "Charlie and the Chocolate Factory," "Beetlejuice," "Sleepy Hollow," "Batman," "Tim Burton's The Nightmare Before Christmas," "Edward Scissorhands," and more.

On Wednesday, June 10, Keith Lockhart returns to the podium for a special one-night-only program of" Star Wars: The Story in Music" that features John Williams' music from all nine "Star Wars" films, with accompanying narration in place of film excerpts.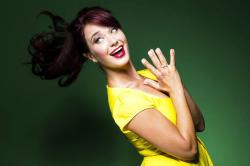 Broadway At Pops: Ragtime, Alan Menken Music, Megan Hilty and Jason Danieley

The season's Broadway offerings begin on May 21 and 22 with concert performances of the 1998 Tony Award-winning musical "Ragtime," based on the E.L. Doctorow novel. Created in honor of Keith Lockhart's 25th anniversary, this version by the original creators — playwright Terrence McNally, lyricist Lynn Ahrens, and composer Stephen Flaherty — includes all the musical's hit songs ("Wheels of a Dream," "Till We Reach That Day") sung by a cast that will be announced at a later date.

Also sure to be a highlight of the Boston Pops 2020 season are performances on May 27, 28, and 30 of "The Wonderful World of Alan Menken's Music" which takes a wide-ranging tour through many of the composer's favorite scores, including "The Little Mermaid," "Beauty and the Beast," "Aladdin," "Little Shop of Horrors," "Newsies," "The Hunchback of Notre Dame," "Hercules," and "Tangled," among others. Lockhart is joined on the stage by Broadway stars Sierra Boggess ('Phantom of the Opera," "The Little Mermaid"), Telly Leung ("Glee," "Aladdin," and 'Rent"), and Alton Fitzgerald White ("The Lion King," "The Color Purple," "Ragtime," and "Miss Saigon"). The first half of the program will feature the Pops performing some of Keith's favorite music.

More stars of the stage join Keith for the concert "Celebrating 25 Years with Keith!" on June 2, 3, and 4. Megan Hilty from Broadway's "Noises Off" and "Wicked" and the TV drama "Smash" teams up with award-winning performer Jason Danieley from Broadway's "Pretty Woman" and "Curtains" as they both look back at Keith's 25 years with the Pops and celebrate with the music of his favorite American composer, George Gershwin. The first night in this series of concerts features winners of Fidelity Investments Young Artists Competition. Now in its 12th year, this competition embodies Keith's support of music education and cultivation of young talent.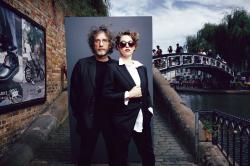 Americana: Biographer Jon Meacham Hosting Song Celebration, Amanda Palmer And Neil Gaiman, Gospel Night

The 2019 book "Songs of America: Patriotism, Protest, and the Music that Made a Nation" by Pulitzer Prize-winning biographer Jon Meacham and country music singer Tim McGraw serves as the inspiration for concerts on May 19 and 20 that feature the Pops and Tanglewood Festival Chorus. Meacham and Keith Lockhart will guide the program through eras of American history and songs and performers that moved us, from "The Star-Spangled Banner" to "Lift Every Voice and Sing" and "Born in the U.S.A."

Boston's own songwriter, performer and author Amanda Palmer, joined by her husband, writer and storyteller Neil Gaiman, curates an evening of songs, poetry, and stories on June 11 and 12. The couple will perform for these concerts new symphonic arrangements of their work by composer Jherek Bischoff, led by Keith Lockhart.

To close the season on June 13, returning conductor Charles Floyd leads the 28th annual Gospel Night performance, featuring the Boston Pops Gospel Choir and special guest Smokie Norful. Best known for his 2002 album "I Need You Now" and the 2004 release "Nothing Without You" for which he won a Grammy Award for Best Contemporary Soul Gospel Album, Norful is the founding senior pastor of Victory Cathedral Worship Center in Illinois.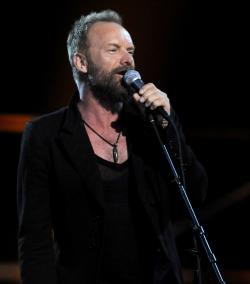 Presidents At Pops: Sting

Presidents at Pops will celebrate Keith Lockhart's 25th anniversary as Boston Pops Conductor with a very special evening featuring multiple Grammy Award-winning pop/rock legend Sting at Symphony Hall on Tuesday, June 9, at 8 p.m. One of the Boston Symphony Orchestra's most important annual fundraisers, Presidents at Pops celebrates the unique partnership between the Boston business community and the BSO, and is widely acclaimed as one of the largest and most successful corporate benefits for the arts in the United States.

Lead sponsorships from $25,000 to $250,000 are currently available and include a range of exclusive benefits such as premium seating, full-color sponsor pages, recognition at the event and throughout the Pops season, and support of the BSO's Days in the Arts at Tanglewood summer camp. If available, additional ticket packages will be announced at a later date. Single tickets will not be available for this event. For more information about Presidents at Pops, please click here, email presidentsatpops@bso.org, or call 617-638-9454.

"My most sincere hope is that all of us here at the Boston Pops have continued to bring our beloved audiences the orchestra's singular brand of artistry and entertainment that have always made it both an iconic Boston institution and the nationally beloved ensemble we like to call America's Orchestra," Lockhart adds.

For the complete schedule of the Boston Pops 2020 season, Click here for the complete schedule.
Comments on Facebook