Gwyneth Paltrow Reacts to Coronavirus: 'I've Already Been in this Movie'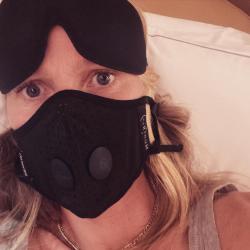 Actor and lifestyle/health CEO Gwyneth Paltrow took to Instagram Wednesday to react to the coronavirus virus affecting numerous parts of the world.
Sharing a selfie wearing a facemark and an eye mask, the goop founder wrote that she was "en route to Paris" via a plane.
"Paranoid? Prudent? Panicked? Placid? Pandemic? Propaganda? Paltrow's just going to go ahead and sleep with this thing on the plane," she captioned the snap.
"I've already been in this movie," she added, referring to the 2011 outbreak thriller "Contagion." "Stay safe. Don't shake hands. Wash hands frequently."
[Editor's note: Spoilers for "Contagion" follow.]
Steven Soderbergh's film follows a virus outbreak and how the world reacts to it, tracking various professions including, health officials, journalists and government. Paltrow's character in the film, Beth, is patient zero, and, after returning to Minnesota from a business trip in Hong Kong, shockingly dies early on in the movie.
Since the coronavirus has made international headlines over the last month, "Contagion" has gone on to have a second life, hitting Apple's top 10 chart on iTunes Movies. Additionally, there have been a number of thinkpieces written about the movie and its relationship with what's happening today.
Find some of those articles below and revisit the "Contagion" trailer, also below.
Vanity Fair: Rewatching Contagion in an Age of Coronavirus
NPR: Fact-Checking 'Contagion' — In Wake Of Coronavirus, The 2011 Movie Is Trending
Vox: The 2011 film Contagion is even more relevant in 2020, and not just because of coronavirus
Vulture: The Ending of Steven Soderbergh's Contagion, Revisited
The Hill: What does the movie 'Contagion' tell us about coronavirus (COVID-19)?
Fortune: 'Contagion' writer, scientific adviser reflect on film's newfound relevance amid coronavirus crisis
Comments on Facebook