Stormy Weather - The Life of Lena Horne
60 Minutes correspondent Ed Bradley, who like many of us has not led an altogether blameless life, was asked if he thought he'd get into heaven. He responded all he needed to say to St. Peter was "Have you seen my interview with Lena Horne?"

Cameras followed the adoring segment host as he strolled with her first in Paris, a city that held fond memories for them both; and then through Central Park, as she reminisced sometimes tearfully about her hard times and how her involvement in the Civil Rights Movement had given her peace as a black woman.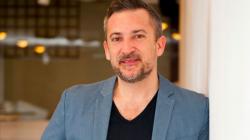 Embittered by racism
James Gavin, author of a new biography of the elegant African American star with the mega-watt smile, offers a different and far more detailed slant. His Stormy Weather/The Life of Lena Horne, just published by Atria Books, gives us an angry woman who'd had a horrible childhood and who as an adult was thwarted by bigotry and perceived slights, and whose personal life was tumultuous. Gavin covers the same territory as did Bradley - and lots more - in the nearly 600 page tome.

However Gavin's portrait of Hollywood's first black female star in the sound era is a far remove from Bradley's sentimental paean.

A beacon of hope for aspiring African American acting hopefuls, a diva admired by a host of gay fans, and an entertainer who wowed audiences from Las Vegas to the high society cafes of sophisticated New York, Lena Horne herself was embittered by the racism that prevented her from attaining roles she wanted to play and closed doors she wanted to enter. She accepted the adulation of white audiences, but distained them.

She also felt abandoned by the people she wanted to love her. In a moment of pique, perhaps, she said she married her second husband because he could do things for her professionally that a black man couldn't. Towards the end of her life she conceded to her daughter that "maybe I was more loved than I thought," but through most of her life she sought unsuccessfully to have her mother (for one) acknowledge that she loved her. For good reason she was viewed by many as an ice princess.
Comments on Facebook