"On The Road" on Blu-ray!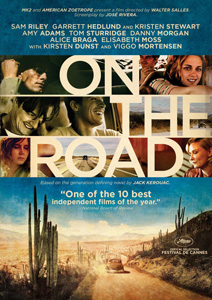 Jack Kerouac's revered landmark novel ON THE ROAD comes to the screen at last, in one of the most anticipated and talked-about movies of the year. The epic road movie, featuring a one-of-a-kind ensemble cast, arrives on high-definition Blu-ray and DVD from IFC Films on August 6, 2013, with SRPs, respectively, of $29.98 and $24.98.

Since the book's publication in 1957, a movie version of ON THE ROAD has been an elusive dream for a wide range of filmmakers. Executive producer Francis Ford Coppola bought rights to the book in 1980, and 30 years and several screenplay adaptations later, hired award-winning Brazilian director Walter Salles (Central Station, The Motorcycle Diaries) to helm the project. Salles traced Jack Kerouac's own late-1940s journey across America in preparation for filming. Thanks to a remarkable cast, including Kristen Stewart as she's never been seen before, the result has been worth the wait.

ON THE ROAD tells the timeless story of Sal Paradise (Sam Riley, Byzantium, Control), a young writer whose life is shaken and ultimately redefined by the arrival of charming ex-con Dean Moriarty (Garrett Hedlund, Inside Llewyn Davis, TRON: Legacy), a free-spirited, fearless, fast-talking Westerner and his girl, Marylou (Kristen Stewart, The Twilight Saga). Traveling cross-country, the new friends venture out on a personal quest for freedom from the conformity and conservatism engulfing them in search of the unknown, themselves, and the pursuit of "it" - the pure essence of experience. Seeking uncharted terrain and the last American frontier, the duo encounters an eclectic mix of men and women who each indelibly impact their journey toward self-discovery.

Enter to win!

Thanks for visiting EDGE!
Click here to learn about the 365 Gifts Promotion »