1 thru 10 of 28585 Stories
Virginia lawmakers gave final passage Wednesday to a comprehensive anti-discrimination bill that advocates said will make the state the first in the South to enact such protections for LGBTQ people.
It is against state law in South Carolina for public school sex education classes to mention anything other than heterosexual relationships, unless the talk involves sexually transmitted diseases. A federal lawsuit now aims to change that.
Lawyers for "Full House" actress Lori Loughlin and her fashion designer husband, Mossimo Giannulli, said Wednesday that new evidence shows the couple is innocent of charges that they bribed their daughters' way into the University of Southern California.
President Donald Trump declared that a widespread U.S. outbreak of the new respiratory virus sweeping the globe isn't inevitable even as top health authorities at his side warned Americans that more infections are coming.
The anti-LGBTQ group One Million Moms is the latest organization of conservatives taking issue with Billy Porter's "Sesame Street" appearance in which he wear's his fabulous Oscars gown.
President Donald Trump said he'll discuss the coronavirus threat at a White House news conference Wednesday, a day after he sought to minimize fears of the virus spreading widely across the U.S.
Disney CEO Bob Iger, who steered the company's absorption of Star Wars, Pixar, Marvel and Fox's entertainment businesses and the launch of a Netflix challenger, is stepping down immediately, the company said in a surprise announcement Tuesday.
A day after a jury branded Harvey Weinstein a convicted rapist, the former film producer remained at a New York City hospital on Tuesday, his new life as an inmate interrupted by concerns about high blood pressure and heart palpitations.
In a victory for the Trump administration, a U.S. appeals court on Monday upheld rules that bar taxpayer-funded family-planning clinics from referring women for abortions.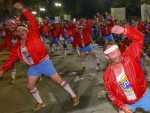 Revelers dressed in costumes and reaching for beads thrown from floats will take to the streets when Carnival season reaches its peak, their celebration tinged with grief after two paradegoers were hit and killed by floats in the run-up to Fat Tuesday.
1 thru 10 of 28585 Stories