With more time at home (whether alone or with a partner), many men are facing the reality that their sexual health needs a boost. Men's Performance Clinic offers a holistic approach that goes far beyond a quick fix.
Disability Awareness Consultant Andrew Gurza discusses his ambitions as well as his desire for (a lot) more sex.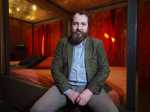 Sex for sale has long been a staple part of the German capital's freewheeling nightlife. But amid concerns over the new coronavirus, even the world's supposedly oldest profession is suffering a sudden slump.
Researchers in China have turned their attention - and their microscopes - to the possibility that coronavirus can be transmitted through "fecal-oral transmission" - in short, rimming.
Forty-four percent of people rate 2019 as their best year for sex yet, according to new research.
Popular culture overflows with sex, from cinema to advertising to, yes, even politics. And for many, sex represents one of the most intimate forms of human connection.
GAINSWave Acoustic Wave Therapy is now available to treat the cause and not just the symptoms of erectile dysfunction. A leading doctor shares insights about this cutting-edge technology.
These findings challenge what porn scholars call the "negative effects paradigm," which sees porn as an inherently bad thing that cultivates harmful attitudes.
Millions of glasses wearers 'regularly' have sex in their specs but have suffered embarrassing consequences as a result.
More and more women are reporting that they're bisexual. But in the most recent survey, one subset stood out: 23% of black women in the 18 to 34 age group identified as bisexual.