Top Story
One California lawmaker is already working on a way to preserve at least some of the state's environmental muscle: Rebates for electric cars.
Rather than moving users' personal data from properties such as WhatsApp and Instagram to the core Facebook platform, the company should put a wall around the services or, better yet, sell them off, a conservative lawmaker said he told Zuckerberg.
Most Americans are at least somewhat confident that the world will step up in its fight against global warming — but there are limits to their optimism.
Walgreens and a Google affiliate are testing drone deliveries that can put drugstore products on customer doorsteps minutes after being ordered.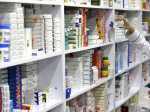 A cheap, daily pill that combines four drugs has been tested for the first time in the United States to see if it works as well among low-income Americans as it has in other countries to treat conditions leading to heart attacks and strokes.
In a new video released by intomore, four older gay men try Grindr for the first time. From setting up their profiles to exploring nearby matches, watch these 65 and ups learn the wild world of Grindr...